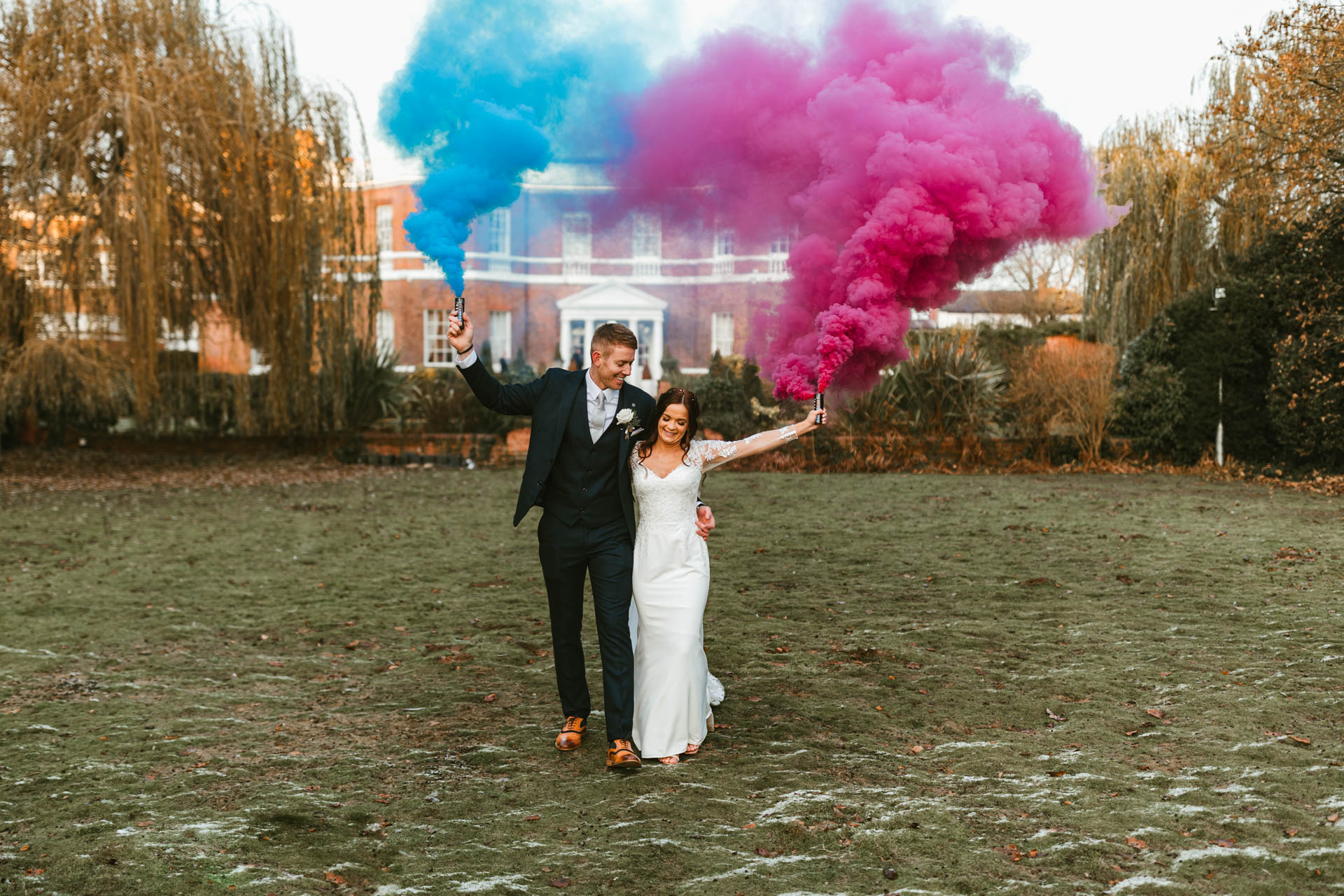 When it comes to Yorkshire wedding venues with the wow factor, you really can't beat Bawtry Hall. Our Grade II listed, exclusive-use venue – bordering Yorkshire and Nottinghamshire – is pure luxury and sets the scene for a seriously stunning big day. While our historic house, sumptuous interiors and gorgeous gardens are what our couples instantly fall in love with, the things brides- and grooms-to-be love the most about Bawtry Hall is how they can really put their own stamp on the day. Looking for some inspiration? Here's how to personalise your wedding day at Bawtry Hall
The ceremony room
We've got plenty of beautiful spaces for your civil ceremony at Bawtry Hall. From the grandeur of our Wesley suite, filled with antique furniture and period detailing, to our romantic Outdoor Porch, you get to choose what setting best fits the style of your day. Perhaps you have a strong vision (or multiple Pinterest boards) of what you want your ceremony room to look like, or maybe you're after some inspiration. Either way, our friendly wedding events team can work with you to make your dream day come to life. From elegant chair ties to floral arches, Bawtry Hall has had it all.
Your reception styling
The wedding breakfast is a chance to really bring your big day theme together. We have worked with couples on everything from festive, wintry décor – complete with mini fir trees – to elegant blossom trees as table centrepieces. From the flowers to the table signage, you get free rein to personalise your wedding day at Bawtry Hall.
Light up signs
The dancefloor is going to be the hub of your evening wedding party, so why not go all about with giant light-up letters celebrating your newlywed status? We love how one of our real couples dressed up their personalised light-up letters with colourful balloons and flowers. It makes such a statement on the dancefloor and is the coolest backdrop to those first dance wedding photos.
Fireworks
Want your wedding to go off with a bang? We've got that covered for you. At Bawtry Hall we do allow low-noise fireworks, although your firework supplier will need to get clearance from air traffic control (something they'll know all about). It's such a grand and romantic way to personalise your wedding at Bawtry Hall, and one we guarantee all your guest swill be talking about!
Quirky transport
Whether you opt for a traditional horse and carriage, or a quirky retro Fiat 500, there are no rules when it comes to making an entrance at Bawtry Hall. We just want you to arrive in style! If you've got something particular in mind, our wedding events team would love to hear about it.
The food
At Bawtry Hall we love our food and know how important the right menu is for an unforgettable wedding day. Our amazing chefs can work with you to create the ultimate big day feast, form delicate canapes and delicious three-course meals, to grazing buffets, luxury BBQs and stonebaked pizzas. Sweet treats for your guests are a clever way to personalise your wedding at Bawtry Hall. Real couples have hired vintage ice cream trikes and created indulgent sweetie tables. How cute is this 'help yourself' cookie display?
Music
Fill your day with the kind of music you love, to show off your couple style and personalities. From DJs playing massive tune after massive tune, to the brass band that brought all the fun, we've seen it all at Bawtry Hall.
Booking your wedding at Bawtry Hall
Our friendly wedding events team would absolutely love the chance to show you around our historic Yorkshire wedding venue. Bawtry Hall has so many beautiful spaces – indoor and outdoor – to explore, so if you'd like to book a viewing just click here and we'll get back to you straight away.