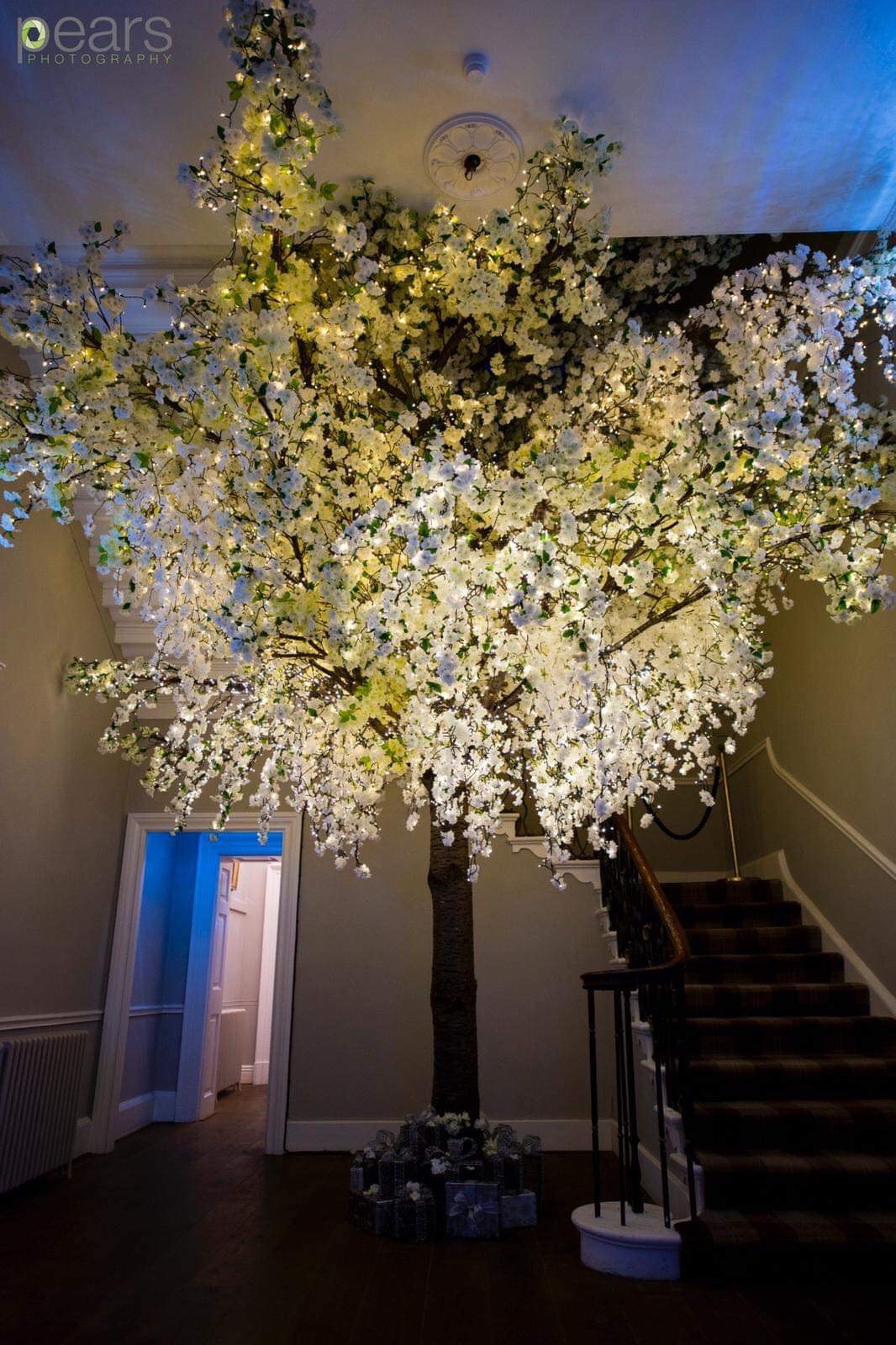 The region's newest exclusive use wedding venue Bawtry Hall is delighted to unveil its latest edition – a giant blossom tree inside the hall!
Giant Blossom Tree installed inside Bawtry Hall
The tree, which is 7 meters in height, was installed at the end of November at Bawtry Hall as a central focal point for wedding and event photos near the grand staircase.
Made of natural cherry trees from sustainable woodlands, a steel base and silk blossom, the tree was installed by company Plantart. It was made horizontally in the workshop, and then a two-day four-man installation building from the top downwards.
Craig Dowie Managing Director of Bawtry Hall explains "The area the tree was installed is such a huge vast area and height that we needed to think of something extra special and totally breath taking to fill it. The 'Tree of Life' as it is now becoming known, in many cultures are sacred symbols of energy, spirituality, stability, growth and love – all of which reflect on the joyous occasions including weddings and celebrations hat have been held in Bawtry Hall already in the year that we have been open".
Bawtry Hall opened its doors in December 2017 as an exclusive use wedding and event venue, and over the past 12 months has held six weddings and an array of balls and dinners, including 'Bring your Breastie', The Crystal Ball by DB4C, and the launch of local boxer Jamie McDonnell's boxing foundation.
Katey Dent Sales Manager of Bawtry Hall also commented "The tree looks like it was there before the hall – and that the hall has been built around it! Today people want that perfect Instagram / social media photo opportunity, and our stunning giant blossom tree is certainly that! We cannot wait to see some amazing photographs over the next few weeks and months using #BawtryHallBlossom."
Share this: